Meet The Author
Fantasy,
Sci-Fi, and
Contemporary
Novelist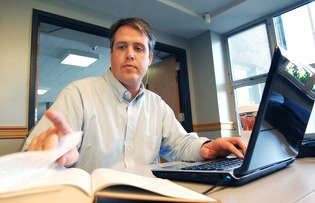 L. B. Graham is the author of nine fantasy, science-fiction, and contemporary novels. His most recent fantasy series is "The Wandering", with THE DARKER ROAD and THE LESSER SUN already released. The third novel, THE COLDER MOON, is under development.

His first fantasy series is named "The Binding of the Blade" and includes BEYOND THE SUMMERLAND (a Christy Finalist in 2005), BRINGER OF STORMS, SHADOW IN THE DEEP, THE FATHER OF DRAGONS, and ALL MY HOLY MOUNTAIN.

He has also written THE RAFT, THE RIVER, AND THE ROBOT, a dystopian novel paying homage to "Huck Finn," and a contemporary crime novel titled AVALON FALLS.

He is the executive director of Beachmont Christian Ministries and lives in Baltimore, Maryland.
Developing THE COLDER MOON, book 3 of The Wandering
Latest news
Just a quick note to say I have a new interview posted at the Enclave Publishing website. Here's the link if you are interested. My thanks to Morgan Busse and Enclave for the chance to do the interview.
This post is part of a series on Ray Bradbury and his book, "The Martian Chronicles," which will run from Memorial Day weekend through Labor Day weekend. Well, way back over Memorial Day weekend when I posted my first official post for my summer project of doing a 'book club' on Ray Bradbury's classic, The[…]
Previous
Next